Ryan Quinn's Powerful 'The Voice' Blind Audition Made Everyone Emotional — Watch the Video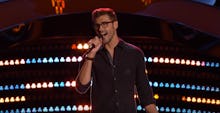 It's not every day that a blind audition on NBC's singing competition The Voice makes all four coaches turn their chairs, but on Monday night, 25-year-old Ryan Quinn had the coaches all fighting over him — and for good reason. Quinn, a New Yorker who works as a music teacher, sang Blind Faith's "Can't Find My Way Home." During the performance he had the audience pretty much spellbound as he hit high notes with incredible ease.
Read: Jordan Smith 'The Voice' YouTube Video: Watch Kentucky Teen Cover "Somebody to Love"
"I'm a dude with a high voice, and when you've got me going like 'Damn, that's really high,' I can assure you that's really high," The Voice coach Adam Levine told Quinn after his performance. "I'm jealous of your tone cause it's extremely round, and I'm gonna keep my claws out and I'm gonna fight as hard as I possibly can to make sure that I can get you on my team."
While all the coaches tried to woo Quinn onto their teams, he ultimately chose Team Adam, over the other teams headed by Pharrell Williams, Blake Shelton and Christina Aguilera. The Voice airs on NBC Monday and Tuesday nights at 8 p.m. Eastern.