Missy Elliott's #PepRallyChallenge Is Producing Straight-Up Brilliance on Twitter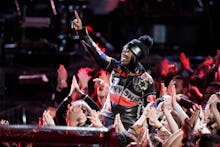 Missy Elliott has been bringing out the best in hip-hop for nearly 20 years. She's consistently delivered some of the most superfly dance beats, tongue-twisting verses and stylish videos the genre has ever seen. 
Her most recent banger, "Pep Rally," is no exception. This time around, however, she offered fans the opportunity to submit their choreographed takes on the beat, rather than provide them from the top down. 
She's been collecting and retweeting submissions since the song's release in February using the hashtag #PepRallyChallenge. The results have been breathtaking. 
It's hard to say what other artist could have brought out this much brilliance in their fan base with such a simple challenge. But we suppose every dancer knew that if they didn't come funky fresh, dressed to impress and ready to party, they weren't going to get anywhere with Missy Miss.
The song has also been inspiring dancers outside the hip-hop realm, from ballerinas to tap dancers:
Even the younger crowds have been dancing like they have something to prove: