Jerry Springer for President? "OK, I'll Run," Says the Ringmaster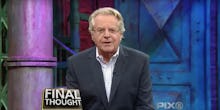 Jerry Springer is prepared to be president of the United States.
The one-time mayor of Cincinnati, who has spent the last 25 years hosting one of the United States' most famous talk shows, said it would be unlikely and even "ludicrous" to consider but that he would serve if a "Draft Jerry" movement gained enough steam.
Read more: Dog the Bounty Hunter Told Us His Secret Weapon for Destroying ISIS: Pig's Blood
"OK, I'll run," he told Mic. "My passion has always been political. I am still active."
Springer, a lifelong liberal, told Mic he has been keenly following the presidential race and offered his own take on a Trump-Springer matchup.
"If I ever ran against Trump, there really would be a wall built on the Mexican border," he said. "You'd have to build a wall to keep Americans from trying to get out."
In his public presence, the longtime ringmaster of the greatest show on daytime TV said he has noticed the similarities between the Republican race and his own program. After the most recent GOP debate in Detroit, which included a disquisition on the size of Donald Trump's penis, Springer issued a pithy and rare reaction via Twitter.
"Running the country is not a crazy television show. It's supposed to be serious. It's our country, its our lives," he said. "My show is crazy but it's entertainment."
Under normal circumstances, Springer, who was born in England, would technically be disqualified from serving as the U.S. commander in chief. On the other hand, details like being born abroad have done nothing to dampen the prospects of Sen. Ted Cruz, who hails from Canada, or Sen. John McCain, the 2008 Republican nominee, who was born in the Panama Canal zone.
Springer, who hosts a weekly politics podcast, said that while his heart is with Vermont Sen. Bernie Sanders on many issues, he is ultimately for former Secretary of State Hillary Clinton, who, he said, is the most qualified in the race. It was critical, he said, to prevent a Republican president while the party maintained its lock on Congress. 
"The only thing that protects this country from a right wing Congress is a Democratic president," said Springer, who also kept the door open for the slightly more realistic possibility of non-presidential government service. 
"If you love the country, you'll do it," he said of a potential cabinet appointment, adding that his personal forte would be anything having to so with poverty and education. "Thats where we're in the most danger in America."
The word is out on what Springer's platform will be, but may we suggest one?
"Springer 2016: Take care of yourself, and each other."