How Long Will the Democratic Debate Last? A Guide to the March 9 Primary Debate in Miami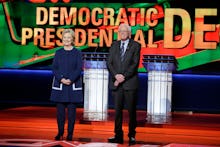 Charlie Neibergall/AP
The next Democratic presidential debate will take place in Miami on Wednesday, March 9. Vermont Sen. Bernie Sanders and former Secretary of State Hillary Clinton will face off at Miami-Dade Community College. 
The debate will begin at 9 p.m. Eastern, according to the Washington Post, and is slated to go until 11 p.m, filing the two-hour slot. Generally, the Democratic debates have started and ended on time, well within the 9 p.m. to 11 p.m. timeframe. On the Republican side, however, debates have often gone on much longer, largely because the candidate pool was much larger; The second Republican debate lasted an agonizing three hours. 
Read more: Bernie Sanders Just Showed Why He Won't Be Going Away Anytime Soon
Univision and the Washington Post will host the debate, and CNN will air the debate. Univision will air the debate as well, in Spanish. Maria Elena Salinas and Jorge Ramos of Univision and Karen Tumulty of the Washington Post will moderate.
The Republican presidential candidates will participate in a debate hosted by CNN, Salem Media Group and the Washington Times at the University of Miami on March 10.