How Long Will Thursday's CNN Republican Debate Last?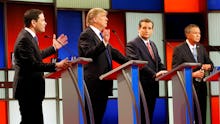 CNN is hosting yet another Republican debate on Thursday night, joined by the Washington Times and Salem Media Group as co-hosts, at the University of Miami. Following last week's GOP debate on Fox News, whether Donald Trump will keep conversation about his genitals and hands to a minimum and Florida Sen. Marco Rubio will play nice, however, can only be answered at 8:30 p.m. Eastern Thursday. 
Also attending Thursday's debate are Texas Sen. Ted Cruz and Ohio Gov. John Kasich, vying along with Rubio to take Trump down a notch. 
Read more: Everything You Missed From the Republican Debate in Detroit
The debate is only scheduled for two and a half hours, beginning at 8:30 p.m. and ending at 11:00 p.m. Eastern, with Anderson Cooper's post-debate analysis beginning immediately after, according to CNN's TV schedule. 
While some of the GOP debates have trailed on to 3 hours long this campaign season, Thursday's debate will have a hard stop time at 11:00 p.m.
Trump and his controversies became the highlight of last Thursday's debate, and expect more of the same for this Thursday night's event at the University of Miami.