This Dad Literally Put an Ad Out to Find a Husband For His "Virgin" Daughter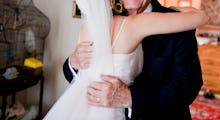 Sometimes dads do things that they think are funny but are actually just weird and creepy. Such was the case with an Illinois father who recently took out an ad in the Employment Opportunities section of Christianity Today for (y'all ready for this?!) his virgin daughter's hand in marriage.
"Her: godly, gorgeous, athletic, educated, careered, humorous, travelled, bilingual, 26-year-old virgin," the advertisement, which, again, ran in the Employment Opportunities section of Christianity Today, reads. "You: unworthy, though becoming less so daily."
According to the Daily Beast, the man's daughter, Rachel Stewart, took the whole thing with a grain of salt when writing about it in a blog post that she has since deleted.
"I called my dad at work and asked if he knew anything about a personal ad in the leading evangelical magazine envisioned by Billy Graham," she wrote of her initial reaction to the ad. "His response was revelatory, 'One second. Let me close my door.' Then came his unapologetic admonition about the entire thing that concluded with him reading it to me. Impressed, but not surprised, I laughed and then hung up."
Stewart's lighthearted blog post didn't indicate that she had any discomfort with her father's creepy, evangelical Christianity-bred preoccupation with her virginity, nor did she seem to take issue with his decision to publish the ad without her consent.
Mark Galli, Christianity Today's editor-in-chief, expressed regret at running the ad and posted an apology to Twitter last week.
"We at Christianity Today apologize for publishing a personal ad in our Marketplace section that has been rightly seen as demeaning and in poor taste," he wrote. "We want everything in our magazine to reflect beautiful orthodoxy, and this ad did not. We have taken a hard look at our ad review process, made some changes, and we can assure our readers that no ad like this will appear again."
The magazine's decision to never publish an ad like this again probably won't be appreciated by all the other aspiring comedian fathers out there. But PSA to all dads: Offering up your daughter's hymen to the highest bidder isn't particularly funny or cute. It's just creepy. 
h/t the Daily Beast
Get the five stories that will challenge you to rethink the world by signing up for MicCheck Daily.