Which Superheroes Will Appear in 'Batman v. Superman'? Quite a Few, Actually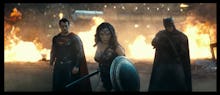 YouTube
We've barely hit the superhero film rush of 2016. Thus far, only Deadpool has hit theaters, earning plenty of positive reception in the process. However, superhero sequel season will begin in earnest on March 25, with Batman v. Superman: Dawn of Justice. 
The sequel to Zack Snyder's Man of Steel will inevitably feature more exposition and world-building since, at the very least, we're being re-introduced to Batman (Ben Affleck), as well as the devious Lex Luthor (Jesse Eisenberg). However, Batman isn't the new film's only noteworthy protagonist addition — four other superheroes are set to make an appearance as well. 
Read more: 'Captain Marvel' and 'Wonder Woman' First DC, Marvel Films With Female Superhero Leads
Wonder Woman: Not only will Wonder Woman (Gal Gadot) make an appearance in Dawn of Justice, she is set to have a major role. The heroine will also have her own spinoff movie, set for a 2017 release. According to Entertainment Weekly, Wonder Woman will spend most of the film as her alter-ego, Diana Prince, who is — for all intents and purposes — a covert, female James Bond. 
Once she's revealed as Wonder Woman, however, it's expected she'll help Batman and Superman against the dreaded Doomsday. If the Dawn of Justice trailer is any indication, she'll also save Batman at least once. With Wonder Woman's on-screen introduction, it should spark more female-centric comic book movie adaptations by Warner Bros., at the very least.  
"I think all these things — truth and love and wanting peace and all the things that she represents  — is something that we all look up to and would want," Deborah Snyder, Dawn of Justice producer and Snyder's wife, said in an interview with Entertainment Weekly. "In order for women to believe that they can do this, they have to see it."
Aquaman: Game of Thrones alum Jason Momoa will play Aquaman — though, based on industry rumors, he's expected to play a relatively minor role. "As of the shooting script Aquaman is barely even present, showing up only in a survey of metahumans by Lex Luthor and then again at the very ending, when Batman recruits him for the Justice League," Devin Faraci wrote for Birth. Movies. Death. (Like Wonder Woman, he will also have a spinoff film.)
However, even given the small role, the casting of Momoa — who made Game of Thrones' Khal Drogo sufficiently intimidating — demonstrates a willingness to portray Aquaman as an absolute badass in Dawn of Justice and beyond. 
While Aquaman has yet to technically make an on-screen appearance, there are legitimate theories that he had a part to play in Man of Steel — it's just extremely subtle. When Clark Kent (Henry Cavill) saves workers from an offshore oil rig, he's knocked unconscious and his body begins to descend into the ocean.  
The final sequence before the screen fades shows a whale and its calf above Kent — perhaps willed toward the sinking hero by Aquaman himself, who can communicate with sea creatures. 
The Flash: Separate from the TV series on the CW, Dawn of Justice will have a new Flash, played by The Perks of Being a Wallflower star Ezra Miller. You're likely sensing a trend now, but yes, the Flash will have his own spinoff film, currently slated for a 2018 release — and yes, his appearance in Dawn of Justice will be a small role, like Aquaman's. 
"The film is laced with dream sequences for both Batman and Superman that hint at dangers to come — including the possible appearance of DC's galactic ultra-villain Darkseid," Anthony Breznican wrote for Entertainment Weekly. "The Flash (played by Miller) appears in one such nightmare of Bruce Wayne's, delivering a cryptic message to the Dark Knight." 
Ultimately, it seems like The Flash will have an appropriately quick appearance in Dawn of Justice — a small preview for another member of the impending Justice League film. 
Cyborg: Kids who grew up on the Cartoon Network's Teen Titans series might seem surprised, but Cyborg — to be played by Ray Fisher — will be part of Dawn of Justice's wide-ranging superhero cast. Not much information has been doled out about Cyborg or his role — just that, you guessed it, a 2020 Cyborg film is in the works. 
However, it's a near-certainty that the hero won't exude the same youthful charisma as his animated counterpart, given the dark narrative of Snyder's first Superman film — and the similarly somber tone of the Dawn of Justice trailers to date.