Kendrick Lamar's Net Worth: Compton Rapper Has Amassed a Fortune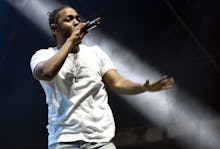 Tim Mosenfelder/Getty Images
Through years of concert revenue, endorsements and ticket and record sales, Grammy-winning rapper Kendrick Lamar has amassed a personal fortune. Though an exact number has not been made public, Money Nation estimates the rapper's net worth at a figure north of $33 million, and the Richest includes Lamar on its "100 Richest Rappers" list, ranking him at number 53. Lamar sits just below Damian Marley and ahead of Three 6 Mafia, Nas, Questlove, Macklemore and Lil' Kim. 
If Money Nation's estimates are true, that would make Lamar's net worth about half as large as rapper Kanye West's, a third as large as Drake's and about on par with rapper Wiz Khalifa. Coed's estimate is a bit higher, calculating Lamar's net worth in 2016 at $35 million. 
Read more: Kendrick Lamar Just Surprise-Dropped a New Album, 'Untitled Unmastered'
Considering the rapper's recent dealings, his net worth is about to expand somewhat. Last week, Lamar surprised fans with an unannounced eight-track effort titled Untitled Unmastered. The record is streaming on major digital music platforms and is available for purchase on iTunes. 
After the release, Lamar posted the album art to Instagram and, by way of explanation, captioned the post, "Demos from To Pimp A Butterfly. In Raw Form. Unfinished. Untitled. Unmastered."
The LP's release sent Lamar fans running to stream or download the album. Billboard reports that industry forecasts project Untitled Unmastered to reach 130,000 to 140,000 in album sales.
The album, which is both lyrically complex and sonically ornate, has already garnered a fair bit of praise. On Tuesday, Pitchfork named Untitled Unmastered "Best New Music," awarding the album an 8.6 out of 10. 
"No other rapper has taken up so much real estate in the past 12 months while releasing so little music and sharing as little about themselves as Kendrick," writes Pitchfork's Kris Ex, adding, "Kendrick has a verve for taking giant steps backwards into an era where masters let the music speak for itself. It all feels like a jazz project, but not just because he's using jazz music."
"These numbers are packed with more information and moods than the 35-minute running time suggests."
Kendrick Lamar may be rich, but so is the music he gives fans. Here's where you can stream Untitled, Unmastered. In the rapper's own words, "Pimp pimp, hooray!"