What Are the Benefits of Yoga? Yogis Are Less Stressed, Probably Better Than You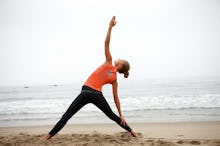 adifansnet/Flickr
In the health world, yoga has proven to be a valuable practice that can have positive physical and mental effects. Physically, yoga can help with flexibility, strength and balance, according to Everyday Health. But there are also many mental benefits to yoga that can overflow into your hectic workplace and stressful work life. 
To put it simply, yoga's meditative aspect — with its poses and focused breathing — may increase mindfulness, which can actually change your brain to be more present and calm in and out of the office, according to the Washington Post. Specifically, a pilot study from 2009 found that for sedentary office workers, regular yoga and meditation can improve sleep quality and lower stress levels — all the makings for a great tomorrow. 
For the record, chronic stress truly does take a toll on the body.
Insomnia can be especially destructive to productivity during the workweek, as it has been associated with anxiety, depression and even killing off the brain's gray matter, according to Psychology Today. The stretching in yoga releases built-up tension and leads to a feeling of relaxation, according to Shape. 
Read more: If Yoga Clothing Were Made for All People, This Is What It Would Take
Not to mention, research has also found yoga to improve cognitive performance, possibly since yoga forces the practitioner to be aware of their breathing and body during the session, according to Prevention. 
Other than the mental benefits, yoga has been shown to reduce chronic back pain, an issue familiar to those who spend too many hours hunched over a desk, according to the U.K. National Health Service.