Matt McGorry's Feminist T-Shirt Is All We Want to Wear on International Women's Day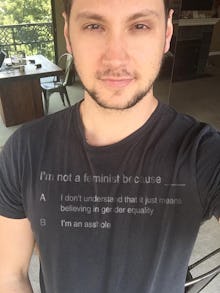 It only comes by once a year, so it's probably best you're dressed appropriately. If you don't know how to dress for a day like International Women's Day, actor Matt McGorry has the shirt for you. 
In observance of International Women's Day, McGorry is selling the T-shirts with a percentage of the proceeds going to advocacy group NARAL Pro-Choice America. 
"I'm inviting other people into the same conversation that changed me: feminism," McGorry wrote.
"When I was designing the shirt, I tried to imagine what I would've needed to hear a year ago to flip the switch and make me think about feminism differently; to think about what women go through every day that I don't," McGorry told Marie Claire in an article published Tuesday. 
"It's crazy to me that I was blind to so many issues because I'd never had to deal with them as a man. When you're in a position of privilege, it's easy to take for granted how much you benefit."
This is not McGorry's first foray into the world of feminism. In fact, he's one of the internet's most vocal feminists. 
He previously starred in a Mic video about male feminism and has spoken publicly about having sex while being a male feminist and made a bold statement on his Instagram about freeing the nipple. 
Not only does he speak his mind, but he's actively trying to raise funds for better abortion access? McGorry gets the title of our favorite #RecentlyWokeBae.