Rowan Blanchard Defends Kim Kardashian West's Nude Selfie, Asks "Why Are Feminists Mad?"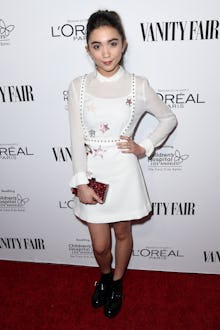 Chloe Grace Moretz may not be a fan of Kim Kardashian West's choice of selfie, but the reality TV mogul shouldn't mind. She's got one of the smartest stars in the world on her side.
Monday night, wise teen Rowan Blanchard defended Kardashian West's nude self-portrait. Blanchard questioned why feminists were angry with Kardashian West at all, considering her selfie was a display of personal control.
"I think that is an awesome thing to teach girls: to be accepting of yourself," she wrote. "Use the selfie to choose how you want to be viewed, and to try to gain control of your own image — something girls have never had."
Blanchard continued her train of thought in a tweet posted Tuesday, expanding on the idea of the naked female form in public. She posted the photo along with several examples of female nudity in art.
"Girls being nude publicly isn't new," she tweeted. "But isn't it nice when they can be the subject of the image, and the portrayer too?"
Blanchard's comments come in sharp contrast to those of fellow teen Moretz, who urged Kardashian West to teach young girls "we have so much more to offer than our bodies."
Kardashian West responded to Moretz's tweets with a simple salutation that doubled as an incredible burn.