With Google Destinations, Google Aims to Be Your Mobile Travel Guide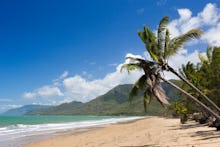 In its efforts to become a digital concierge, this week Google rolled out new travel features in its mobile search to help travelers navigate their next trip. 
Now when you search for a destination and the word "travel," Google serves up a map and description of the area along with suggestions of where to visit and a button marked "travel guide." The company has dubbed the interface Google Destinations, it announced at a press event in New York on Tuesday. 
Clicking on a location sends users to a page where they can view sites and attractions, as well as hotel and flight offerings and estimated travel costs. The card even serves up weather data and what times of year are most popular for traveling to your choice end point. 
Within the new feature, Google also made booking air travel more flexible by allowing users to choose flights based on when prices are lowest. While new to Google's travel interface, choosing economical flights from a mapped calendar isn't a new concept. Travel app Skyscanner has long offered this feature. 
The travel guide presents users with a list of itineraries based on anonymous data aggregated from Google Maps users. It also surfaces relevant video content from around the web within the same card.
For now information about a region is limited to Google's own descriptions, but it has plans to incorporate travel insights from articles and webpages down the road, a Google spokesperson said at Tuesday's event.
In theory, Google's new travel tools give globetrotters a first point of contact for all of their immediate travel queries. The expansion hinges on the company's existing relationships with hotels, airlines and travel booking sites, all of whom advertise through Google. The company insists all search results are generated based on merit and relevance — meaning it isn't surfacing certain offers just because they're from an ad partner. Rather, this new tool seems to be part of a larger goal within the company. 
Google, like Yahoo and others, is in the process of building a mobile concierge. Google Now uses algorithms to mine your personal data from Google Search, Maps, Gmail and other Google apps in an effort to be your personal assistant. In effect, Google not only wants to help you get to your flight on time (which it already does), but it also eventually seeks to make recommendations about what events you should attend, based on information it's collected about your lifestyle. 
For now, Google Destinations will just use aggregated data, but in time the company will likely make the feature more personalized. At the press event, Radhika Malpani, head of Google Image Search, confirmed there is a lot of opportunity for integration between Google Now and Google Destinations, but said the company had nothing to announce presently.