Republican Committee Attacks Double Amputee Veteran for Not "Standing Up" for Vets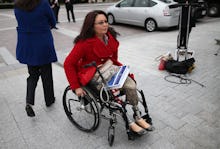 In a hastily deleted tweet Monday, the campaign arm for Senate Republicans attacked a Democratic Senate candidate and double-amputee veteran of the Iraq War for "not standing up   for veterans.
The tweet, issued by the National Republican Senatorial Committee, linked to a dossier slamming Rep. Tammy Duckworth of Illinois for her alleged failure to acknowledge problems within the Veterans Affairs medical system.
Duckworth is vying to take on Sen. Mark Kirk of Illinois, one of the most vulnerable Senate Republicans this year. A U.S. Army helicopter pilot, she lost both legs after her helicopter was struck by a rocket-propelled grenade.
Reached by phone on Monday, the NRSC told Mic that its social media team was not available for comment.
Later Monday afternoon, the committee released a statement saying, "It would be great if reporters would pay as much attention to a deleted tweet as they should to Tammy Duckworth being sued by VA whistleblowers for ignoring claims of mistreatment and corruption."
Meanwhile, Duckworth's campaign issued a statement linking the NRSC's tweet to Kirk.
"Tasteless and dishonest, just like everything else to do with Mark Kirk's flailing campaign," spokesman Matt McGrath said. "Tammy has made fighting for veterans her life's work, and will continue to do so in the Senate."