'Game of Thrones' Finally Released a Full Season 6 Trailer — Here Are the Biggest Moments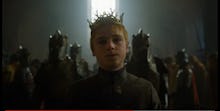 YouTube
After months of praying to the Old Gods and the New (and we wouldn't blame you for praying to the Lord of Light either), Game of Thrones has released the first full-length trailer for its upcoming season. The new season has been kept mostly under wraps — and for good reason. The death of Jon Snow (Kit Harington) at the end of season five left fans pondering the character's fate. While the new trailer doesn't reveal much about the mortality of everyone's favorite Northern bastard, subtle hints tease what's to come in Westeros and beyond the Narrow Sea. 
Read more: 'Game of Thrones' Season 6 Photos Confirm Who Is Alive — And Maybe Who's Not
Though Jon is not exactly doing well in the trailer — he's still dead as far as we can tell — the red priestess Melisandre (Carice van Houten) touches Jon's forehead in a quickly framed scene. Given that the majority of the theories for Jon's return center on Melisandre having similar powers of resurrection as other counterparts in the show who use the Lord of Light's magic — namely, Thoros of Myr — it's a telling sign that he could (potentially) return.  
Additionally, after finishing last season with a gruesome walk of atonement at the hands of the High Sparrow (Jonathan Pryce) and his religious sect, Cersei Lannister (Lena Headey) seems poised to fight back with the help of the Frankenstein-esque version of "The Mountain" Gregor Clegane (Hafþór Júlíus Björnsson). "I choose violence," Cersei says, presumably directing it to members of the Sparrows. 
After being offscreen for an entire year, Bran Stark (Isaac Hempstead Wright) is briefly seen aside the Night's King — the presumed leader of the White Walkers. Of course, it's likely that Bran is going through one of his visions, as the sequence shows him standing upright and he's lacked the use of his legs since the series pilot. 
There are other important shots in the new trailer as well, including a captive Daenerys (Emilia Clarke) and an alive Sansa (Sophie Turner). It goes without saying, but April 24 can't come soon enough. 
Check out the full trailer for the sixth season of Game of Thrones below.