This Slam Poet Has a Powerful Message About Racial Fetishism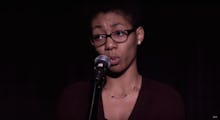 Alessandria Rhines is here to tell you she "ain't your wifey."
Or your "trap queen."
And that racial fetishism is never okay.
She makes this crystal clear in her poem "Truth Is..." 
The poem begins with Rhines describing an intimate situation between her and a white man: 
"I haven't seen him last since we passionately danced, our two tongues in a twisted, tangled tango," she said. 
But the anecdote quickly turns dark when she asserts she was nothing more than a fetish for him; a "taste" of black.
"Fetish," she defines the term. "An inanimate object. Worshipped for its supposed magical powers or because it is thought to be inhabited by a spirit."
She rattles off the long list of black fetishes of which she made powerfully clear she refuses to be associated with.
"I ain't your wifey, your trap queen, your best friend or anything like your mother," Rhines said.
"I am not your experiment, your diversity quota, your cultural trophy. I will not soul food cook for you or boogieman beat these drums. Sometimes this skin aches for more."
"Reassurance that it's worth something."
"That every inch is worth more than the spread of these hips or how it lays in a body bag."
Read more: Here's How Homophobic, Sexist and Racist Each US State Really Is