Donald Trump Cleans Up in Michigan and Mississippi, While Ted Cruz Takes Idaho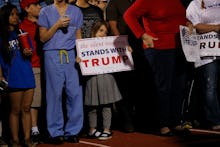 All aboard the Trump Train. Again. 
Republican presidential frontrunner Donald Trump cleaned up in the Michigan and Mississippi primaries Tuesday, denying his rivals a shot of adrenaline as they try to block his path to the nomination. 
Trump greeted supporters in Jupiter, Florida, on Tuesday after the races were called, doling out a remix of his classic stump speech mingled with barbs directed at foes Ted Cruz and Marco Rubio and an upbeat message about the interest he claims credit for generating in the GOP.
"One of the things I'm most happy about is the turnout has been massive for every week... No matter where you go, it's records," he said. "I think it's actually the single biggest story in politics today. It's what's happening at the booth, the tremendous number of people that are coming out to vote."
Read more: 2016 Primary Results: Democratic and GOP Winners in Michigan, Mississippi, Idaho and Hawaii
Trump tore into those who are coalescing in an attempt to derail his controversial campaign.
"If you think about it, every single person that's attacked me has gone down, okay?" Trump said, flanked by displays of his name-brand steaks, bottled water and wine in a deliberate poke at those who have questioned his business acumen.
Trump also seemed ready to pivot to a general election fight: "Hillary is going to be very easy to beat. She's a very flawed candidate, very, very flawed candidate — and [I] believe it's going to be a very, very easy target," he said at his Trump International Golf Club. 
Trump's latest wins show — once more — the real estate magnate's ability to appeal to Republican voters across geographic and demographic lines despite never having run for office before.
The unifying factors, according to exit polling: Anger and fear. 
"Republicans voting in Mississippi and Michigan said they were broadly angry or dissatisfied with the federal government," CNN reported.
"In Mississippi, close to half of voters said they were angry with the government, while in Michigan, that number dropped to almost one-third of voters. But big numbers said they were either angry or dissatisfied with the government, with almost 9 in 10 saying they felt that way in both states."
With 93% of the vote counted in Michigan, per an Associated Press count, Trump had 37% of the vote, with 25% for Cruz, 24% for Kasich and just nine percent for Marco Rubio — a weak fourth-place finish that would cut him off from claiming any of the state's delegates.
Mississippi's polls closed first, and with 97% of precincts tallied by the AP, Trump had a commanding lead with 48% support. Cruz followed with 36% of the vote and Kasich and Rubio finished in the single digits. 
In the Magnolia State, exit polls showed half of GOP voters considered themselves "very" conservative and a strong majority described themselves as born-again or evangelical Christians. 
That's a group that would have been expected to cleave to Cruz earlier in the cycle, but Trump has been holding his own among evangelicals in early contests with a strong religious component, such as South Carolina, which held its primary Feb. 21.
With 44% of the vote counted in Idaho, Cruz held 42% support to 29% for Trump, 18% for Rubio and seven percent for Kasich, the Ohio governor. The AP called the race for Cruz at 12:14 a.m. Eastern on Wednesday.
Kasich was already looking ahead to the March 15 vote in his home state.
"Less than two weeks ago, I was dead last in Michigan polling, with support in the single digits and at half the level of Senators Cruz and Rubio. Tonight, we surged to an unexpectedly strong finish," the Buckeye State executive wrote in a fundraising email. 
"No Republican has EVER won the White House without winning in Ohio and with your help, I am going to defeat Donald Trump in Ohio next Tuesday."
Rough night for Rubio: As expected, it was an ugly night for Rubio. 
The Florida senator has only won two state contests outright so far: Minnesota and Puerto Rico.
His lackluster Tuesday performance will surely stoke the existing buzz about his dwindling chances of capturing the nomination — and put even more pressure on him to capture the 99 delegates up for grabs in his home state in a week.