Tilikum, Killer Whale Subject of 'Blackfish,' Is Dying, According to Sea World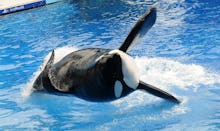 Tilikum, the 35-year-old male orca responsible for three people's deaths and the subject of the documentary exposing SeaWorld titled Blackfish, is dying from chronic health issues, SeaWorld wrote on its SeaWorldCares blog this week. Sea World's veterinary teams "are concerned that his health is beginning to deteriorate," according to the post. Animal care teams and specialized veterinarians are treating Tilikum for a possible bacterial infection discovered in his lungs that has caused the orca's behavior to destabilize and become lethargic over recent weeks.
"Our teams are treating him with care and medication for what we believe is a bacterial infection in his lungs," SeaWorld reported on Tilikum's condition. "However, the suspected bacteria is very resistant to treatment and a cure for his illness has not been found."
Read more: Killer Whale Unna Dies From Infection at SeaWorld in San Antonio, Texas
While SeaWorld notes the male orca is on the high end of the life span spectrum for male whales, The Dodo suggest the organization has inaccurately reported life expectancy of whales held in captivity on its website before, citing a parallel study from the National Oceanic and Atmospheric Administration. 
Tilikum's condition sounds all too similar to Unna's, an orca also living in captivity at SeaWorld when she died in December 2015 after suffering "from a resistant strain of a fungus called Candida. ... While there were some indications that the treatment was having a positive effect, Unna had remained in serious condition and under 24/7 care," SeaWorld then wrote on its blog, as Mic previously reported. 
SeaWorld released a video of Tilikum and his trainers on YouTube Tuesday, as well as veterinarians discussing his declining respiratory condition and the antibiotics and antifungals they feed him daily in fish. 
"I wish I could say I was tremendously optimistic about Tilikum and his future," veterinarian Dr. Scott Gearhart says in the video. "But, he has a disease which is chronic and progressive, and at some point might cause his death. We have not found a cure for this disease at this point."
"If Tilikum would have shown up with this disease in the wild, there's no doubt in my mind he'd been gone a long time ago," Gearhart says. Whether Tilikum the orca would have ever even received this infection while living in the wild, however, is an entirely different question.