How Does Spotify Make Money? Here's the Business Model Behind the Streaming Service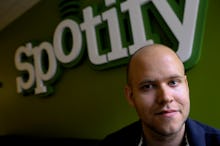 Janerik Henriksson/AP
Streaming is at the forefront of the music industry business, as fewer consumers buy physical music material. From free to as little as $4.99 for a student and then as much as $29.99 for a five person-family a month subscription, Spotify is a middleman for users to legally listen to a huge selection of music on and offline, and rewards royalties to its participating artists, according to its website. Estimates place the Spotify subscriber count at around 20 million (not including active free users), but that number has been growing exponentially according to Billboard in February. 
"Spotify is attempting to restore much of the lost value by convincing music faces to pay for music once again," having paid out more than $3 billion so far, its website said. But that business model launched the streaming service off to a rocky start, as it posted losses of $197 million in 2014, despite having raked in $1.3 billion in revenue, according to the New York Times. The company persists that it'll turn a profit when it gains a certain amount of subscribers. 
Read more: 7 Things You Didn't Realize Are Happening Every Time You Stream a Song on Spotify
"We believe we will generate substantial revenues as our reach expands, and that, at scale, our margins will improve," the company wrote in a management report in 2015, according to the Guardian. "We will therefore continue to invest relentlessly in our product and marketing initiatives to accelerate reach."
Spotify is split into two tiers: free and Premium (which is paid for). As its name suggests, Premium is ad-free, offline and unlimited. Spotify collects revenue from the advertisers using the free tier and also the Premium subscription fees, according to its website. About 70% of its revenue allegedly goes into artists' pockets.
Since its birth in 2008, the streaming service has faced criticism from multiple angles of the music industry for its damaging availability of free music, according to the New York Times. 
A data analysis from Information is Beautiful found that the average payout for one stream of a song of a signed artist (after the label and Spotify's cuts) is $0.001128, the Guardian reported. 
As far as the industry as a whole is concerned, economists published a paper to the National Bureau of Economic Research in October with findings that Spotify is revenue neutral, meaning that it doesn't substantially harm nor benefit the industry, according to Forbes. 
Last year, Spotify was reportedly in talks with television networks over introducing video clips, according to the New York Times. Those videos and podcasts went into effect recently with hopes to attract and keep users, according to Tech Insider.