"Swimming Pools (Drank)" Lyrics: Meaning Behind The Kendrick Lamar Classic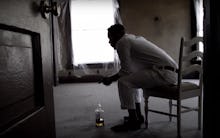 "Swimming Pool (Drank)" is one of the standout tracks in Kendrick Lamar's second full-length LP, good kid, m.A.A.d city. Despite the fact that song and album from which it comes from is nearly four years old, many people still misconstrue the meaning behind the lyrics, possibly due to the connotation of the song's bridge and chorus. 
Read more: Kendrick Lamar Got Unforgivably Snubbed Again at the 2016 Grammy Awards
The first verse of "Swimming Pools (Drank)" is key to understanding the song's premise. Kendrick Lamar has already confirmed to Genius that the first line is in reference to him "reminiscing about my years [as] a kid witnessing a housing that indulged adults in alcohol." The reference to his Grandfather's "golden flask" and "backstroking" in the second line is correlative to the song's title; swimming pools is a metaphor for overindulgent imbibing and the subsequent struggle toward buoyancy, both physical and mental, after being consumed by the liquid.
However, even if you weren't aware of Kendrick Lamar's backstory, the verse offers context clues to how one should interpret the song's structure. The last lines of the first verse are important because of their logical segue into the chorus. 
I was in a dark room, loud tunes, looking to make a vow soon
More importantly, the segue is Lamar's method of signposting the change in point of view.
"Nigga, why you babysitting only two or three shots?
The opening of the subsequent verse is then marked by Kendrick's altered voice – a helium-like timbre denoting Lamar's conscience:
Okay, now open your mind up and listen me, Kendrick
As opposed to the opening verse transitioning into the chorus, the point of view changes immediately within the second verse. 
If I take another one down, I'ma drown in some poison, abusin' my limit
Thereafter, the shifting points of view become more frequent as lines within verses become more fragmentary. 
I ride, you ride, bang
This break in the song is noteworthy due to the wordplay of "shot," paralleling a shot of liquor with the damage of a gunshot. The verse itself also contributes to the swimming pool metaphor because of its intimation of a panicked "life flashing before your eyes"-esque interiority – the cacophony of thoughts that precedes one succumbing to the water.
Listen to the song below: