JK Rowling Showed up at a Book Club Meeting Because They Promised There Would Be Cake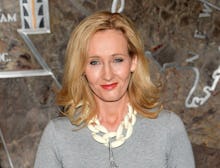 Harry Potter author and delightful human being J.K. Rowling gave a tiny Scottish book club the surprise of a lifetime when she showed up, unannounced, at their meeting on Saturday. 
Read more: J.K. Rowling Just Gave 'Harry Potter' Fans the Gift of Draco Malfoy's Life Story
Stewart Bain, a senior library assistant at the local library in Orkney, U.K., tweeted out an invitation for Rowling to attend the book club's discussion of The Cuckoo's Calling, a novel Rowling published under the pseudonym Robert Galbraith, reported the BBC.
Rowling responded to the initial invitation, so Bain, who runs the library's Twitter account, decided to tempt her with the offer of cake. Of course, he still didn't expect that she would actually show.
When the day came, Bain made sure to tweet that they had picked up a lemon cake (Rowling's favorite) in case she decided to make an appearance.
And, much to everyone's shock, she did. Rowling, it turned out, had taken the invitation quite seriously and chartered a plane to Orkney. "It really was quite unbelievable. We'd heard a rumor earlier that she had arrived in Orkney and then all of a sudden she was there," Bain told the BBC. "I think it's fantastic that she came all the way here to see us and shows the level of support and passion that she has for her readers."
Rowling snapped a photo with the book club, of course, and got a special tour of the library. And she got her cake. On Saturday, Rowling tweeted out her thanks to the Orkney library.
So there you go — If you invite Rowling to your book club meeting, she might come. Provided there's lemon cake, of course.