These Instagram Accounts Celebrating Short Hair Are All the Salon Inspo You Need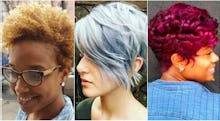 It's the age-old question.
For women who've never had short hair, the thought likely pops up from time to time: Would I still feel beautiful and feminine without long hair? Could I really pull off a bob or pixie cut?
A slew of celebrities have already proven that short hair is chic. Anne Hathaway and Natalie Portman famously got short crops on camera for film roles, Claire Bowen sought to inspire her fans with a pixie and Halle Berry and Lupita Nyong'o have been doing their short hair thing on the red carpet. But it still makes headlines whenever a star goes short: Emma Watson was asked if she was a lesbian, and Lauren Cohan of The Walking Dead's recent pixie cut caused a stir and prompted fans to speculate if her character was on the chopping block.
As beautiful as short hair can be, long hair and big Kardashian-style barrel curls still reign supreme. And despite positive celebrity examples here and there, some women still might hesitate to take the plunge.
But there are plenty of regular women — aka non-famous women, without the benefit of a team of hairstylists — showcasing all sorts of gorgeous short hair on the most accessible place of all: Instagram. Countless confident, everyday women are providing beauty inspiration and proving all the short hair stereotypes wrong.
nothingbutpixies shows that short hair and cool colors that might seem unwearable at first can actually be pulled off.
The Cut Life proclaims that "short hair is a lifestyle," and has one million followers and a blog to prove it.
The appeal of this lifestyle is international, as evidenced by the account pixiebrasil.
New York City salon Crops for Girls specializes in above-the-shoulders styles exclusively. Owner and stylist Michael D'Amico estimates he's given thousands of short haircuts over the past 20 years — many of which now end up online with the hashtag #cropsforgirls.
StylesByShoshana is all about "funky cuts," mostly for women of color and mostly on short hair.
Seagull Salon in New York City claims to be the city's first unisex barber shop and is still giving great short cuts, some of which you can see on Instagram.
Brooklyn-based Idalias Salon specializes in natural hair, with tons of pretty short hair examples on Instagram.
For those not ready to dive into pixies, Anh Co Tran is the authority on those trendy long layered bobs you see everywhere.
These accounts don't just show pretty finished hairstyles; they also show viewers what goes into a short cut and helping make the idea accessible through useful — and empowering — hashtags.
That empowerment can be necessary. Along with the narrow hair beauty standard — long, shiny, bouncy — are also harmful stereotypes and harsh judgments about women who go short. They are often assumed to be lesbian or heartbroken and are seen as boyish, masculine and less feminine and beautiful,  stereotypes that likely discourage some women from trying short hair out.
But short hair doesn't have to hold you back — in fact, quite the opposite. As stylist James Vides of Sally Hershberger Downtown New York told Elle, "It always seems that in a group, it's the girl with short hair who comes off as the most confident, youthful, fun and flirty. It takes a lot of self-assurance to pull off a short hairstyle, but as long as you love it, you can rock it."