Bernie Sanders Wins Michigan Primary, Throwing Wrench in Clinton's Path to Nomination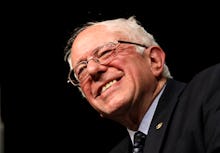 In the Democratic primary battle's most stunning upset yet, Sen. Bernie Sanders of Vermont defeated Hillary Clinton in the Michigan primary on Tuesday, dealing a setback to her hopes of quickly wrapping up the party's nomination.
The Associated Press called the race just past 11:30 p.m. Eastern, with Sanders leading Clinton 50% to 48%.
While Clinton hoped that her strong support with African-American voters would power her to victory in the state, exit polls showed she won black voters by a smaller margin than in Southern contests. The former secretary of state coasted to victory in Mississippi on Tuesday with 86% support among black voters, but won less than two-thirds of the African-American vote in Michigan.
A shock win: Few predicted Tuesday night's result. The final RealClearPolitics polling average gave her a 59% to 37% lead over Sanders, and the challenger had his eye not on an outright win, but on a closer-than-expected finish.
Hard hit by decades of deindustrialization, Sanders saw the state as fertile ground for his anti-inequality, anti-free trade message. In the run-up to the primary, he blasted Clinton for her past support of trade pacts like the North American Free Trade Agreement, asserting that they put the lie to her newfound opposition to the massive Trans-Pacific Partnership trade deal.
"I am very glad ... that Secretary Clinton discovered religion on this issue, but it's a little bit too late," Sanders said during Sunday's Democratic debate in Flint, Michigan. "Secretary Clinton supported virtually every one of these disastrous trade agreements written by corporate America — NAFTA, supported by the secretary, cost us 800,000 jobs nationwide ... permanent normal trade relations with China cost us millions of jobs."
That message seems to have reaped dividends for Sanders in Michigan, and it may yet work in other states with high concentrations of working-class white voters. Polling shows Sanders competitive with Clinton in Wisconsin, which holds its primary on April 5, and running far ahead of Clinton in West Virginia, where voters head to the polls on May 10.
Sanders' showing in Michigan also calls into question Clinton's advantage in Ohio, which votes on March 15.
Still, Clinton retains a healthy lead in the delegate count, and while the results in Michigan raise doubts about her ability to rapidly seal the deal, the odds remain overwhelmingly in her favor. But the smart money also said she would decisively beat Sanders in Michigan.