Toddler Dies After Anti-Vaxxer Parents Said to Treat Meningitis With Maple Syrup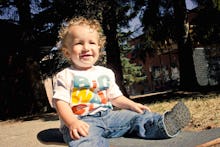 When Ezekiel Stephan became ill in 2012 his parents allegedly didn't take him to a doctor. 
The 19-month-old boy from Alberta, Canada, was reportedly treated at home by his parents, David and Collet. The Stephans pursued a treatment of natural supplements including whey protein, ginger root, olive leaf extract, horse radish root, juice, frozen berries and water with maple syrup. According to reports, they pointedly refused to seek medical treatment even as their son's condition worsened, and he became "lethargic" and "stiff," the Canadian Broadcast Corporation reported. The boy was only airlifted to a hospital once he stopped breathing. 
Read more: 7 Biggest Lies Spread by the Anti-Vaccine Movement, Debunked by Science
Ezekiel died five days after arriving at a hospital for treatment in Calgary. Doctors informed the parents that the cause was meningitis. The story was reported by the CBC — though the details of the account have been disputed by the Stephans family. 
The Stephans appeared in court Monday in the city of Lethbridge to defend their actions, the CBC reported. The pair — who works for a natural supplement company, Truehope Nutritional Support — insisted that they loved their son and it was their right to treat him as they saw fit.
In a lengthy Facebook post, David Stephan offered additional defense of his actions and refuted the CBC story as misrepresentative and unfair. "The idea of boosting an immune system with maple syrup, juice and frozen fruit is so illogical that I am left here shaking my head," he wrote. "Since this court case has begun, there has been a great deal of opposition and outright malicious attacks from various organizations, some having pharmaceutical interests and others just having a very strong opposing agenda."
The same Facebook page, "Prayers for Ezekiel," also offered well-wishers an opportunity to donate to the family.