'Matrix' Director Lilly Wachowski Comes Out as Transgender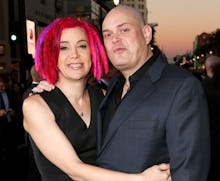 Following in the footsteps of sister Lana Wachowski, Matrix director Lilly Wachowski has come out as a transgender woman — but not entirely on her own terms.
In a lengthy statement provided to the Windy City Times, Lilly Wachowski told the story of being approached in her own home by a reporter. The man in question urged her to speak with his publication about being trans for his story.
"He proceeded to explain he was a journalist from the Daily Mail, which was the largest news service in the U.K. and was most definitely not a tabloid," she wrote in her statement. "And that I really had to sit down with him tomorrow or the next day or next week so that I could have my picture taken and tell my story which was so inspirational! And that I really didn't want to have someone from the National Enquirer following me around, did I?"
Read more: Marc Jacobs Casts Trans Director Lana Wachowski for Ads Celebrating "Beauty of Equality"
Despite the Wachowskis' aversion to press, Lilly Wachowski said, she knew she had to take control of the narrative. In her statement, she specifically referenced the Daily Mail's part in outing trans teacher Lucy Meadows. Meadows killed herself after the Daily Mail's editorial ran.
"The reason I knew about her wasn't because she was transgender," Lilly Wachowski wrote. "It was because three months after the Daily Mail article came out, Lucy committed suicide. And now here they were, at my front door, almost as if to say, 'There's another one! Let's drag 'em out in the open so we can all have a look!'"
Much of the reaction to Lilly Wachowski's statement on Twitter has been both supportive of the Sense8 director and furious with the Daily Mail.
GLAAD's director of transgender media programs, Nick Adams, released a statement in which he said the organization is "thrilled" Lilly Wachowski can live openly, but that being forced to do so spoke volumes.
"Journalists must learn that it is unacceptable to out a transgender person, in the same way it is unacceptable to out a person who is gay, lesbian or bisexual," he said.
Read Lilly Wachowski's full statement at the Windy City Times.
Editor's note: After publication of this story, a Daily Mail spokesman reached out to Mic with a prepared statement. Read that statement below.
DailyMail.com categorically denies that it in anyway tried to coerce Lilly Wachowski into revealing her gender transition. 
As Ms. Wachowski herself says, we were not the first media organization to approach her and we made absolutely clear at several points in the conversation that we were only interested in reporting the story if and when she was happy for us to do so and with her cooperation.
Our reporter was extremely sympathetic and courteous at all times, as is obvious from our transcript of the exchange.
Indeed, the conversation with our journalist ended with Ms. Wachowski agreeing to call him the following day.
The previous case to which she refers was a UK primary (elementary) school teacher, Lucy Meadows, who planned to return to school after the winter holidays in 2013 with a new sexual identity.
The Daily Mail did not 'out' her or hound her.
The story emerged after the school wrote announcing the change to parents, some of whom contacted the local media because they were concerned their children might be too young to understand what had happened. 
The Daily Mail newspaper, which is a separate editorial operation to DailyMail.com, subsequently carried the personal view of a columnist who, while emphatically defending Ms. Meadows' right to transition echoed some parents concerns about whether it was right for children to confront complex gender issues at such a vulnerable young age. 
In the event, it emerged at her inquest that Ms. Meadows made no mention either of the press in general or of the Daily Mail in particular in an extensive suicide note.
As the Guardian reported at the time: 'In a note she left, she made no mention of press intrusion, citing instead her debts, a number of bereavements including the death of her parents, and her stressful job as a primary school teacher.
'She insisted she was not depressed or mentally ill and thanked her friends, family and colleagues for their support, as well as messages she had received from well-wishers around the world.'
We wish Lilly Wachowski well with her journey though we are surprised as to how she has reacted, given the courtesy and sensitivity with which the reporter approached her.