Is Pink's Twitter Post on Feminism a Jab at Kim Kardashian West for Her Naked Selfie?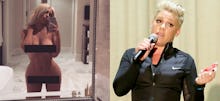 Pink is adding her two cents into the latest Kim Kardashian West internet-breaking nude photo controversy other stars have already lambasted, whether she wanted to or not. Posting a message Tuesday night on Twitter, Pink described the differences in receiving attention for "tits and asses" the feeling of "pride and respect."
"Shoutout to all of the women, across the world, using their brains, their strength, their work ethic, their talent, their 'magic' that they were born with, that they possess. It may not ever bring you as much 'attention' or bank notes as using your body, your sex, your tits and asses, but women like you don't need that kind of 'attention,'" Pink tweeted, seeming to subtweet Kardashian West for her exposing selfie uploaded on the site the day before. 
Read more: Kim Kardashian Doesn't Want To Hear You Slut-Shame Her For Her Sex Tape Anymore
"In the quiet moments, you will feel something deeper than the fleeting excitement resulting from attention, you will feel something called pride and self respect," Pink continued. "Keep on resisting the urge to cave. You'll never have to make silly excuses for yourself. #InternationalWomensDay #BeStrong." 
Her statement follows a similar rhetoric more directly pointed toward Kardashian West — which she wasn't having any of:
"I don't do drugs, I hardly drink, I've never committed a crime — and yet I'm a bad role model for being proud of my body?" Kardashian West wrote in a blog post on her app earlier Tuesday afternoon as her photo continued to go viral. "I shouldn't have to constantly be on the defense, listing off my accomplishments just to prove that I am more than something that happened 13 years ago. Let's move on, already. I have."
She also clapped back at some of the famous people who've criticized her for the nude selfie: 
Pink might have been laying on the subliminal message a little thick, as some other celebrities disagreed with the harsh backlash, including Rowan Blanchard:
Fun fact: Pink has posed nude before for the public eye before, too. So there's that.