'Star Wars' Actor John Boyega Shut Down Online Sexists Who Wanted a Day for Men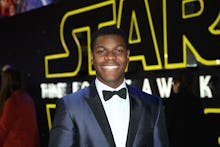 You ever feel like there's just not enough days celebrating men and everything they do? Well, John Boyega certainly doesn't. 
In celebration of International Women's Day on Tuesday, the Star Wars: The Force Awakens actor took to Instagram to post an encouraging message for women. 
Read more: Matt McGorry's Feminist T-Shirt Is All We Want to Wear on International Women's Day 
It didn't take long for people to slide into his comments section and start typing their very short theses on what's wrong with feminism and why men need to stick together, as well. 
Then a full back-and-forth erupted. Some people dubbed him a "traitor," while others called him "Finn the Feminist," a nod to his Star Wars character.
Most celebrities would leave it alone, but Boyega dropped one of the all-time greatest clapbacks. 
"I'm just not talking about frigging men today!" he wrote. "So butt-hurt sexists, please remain in the shadows of your stupidity and from within those shadows you are free to have failed dreams about an estrogen-free world." 
This obviously has everyone on the internet feeling like this: 
And the comments section under this post are very different. 
So all those "butt-hurt sexists" were clearly just sitting around without anything to say. 
This feminist attitude looks great on Boyega. And of course, Oscar Isaac applauds him in the best way ever.