Bernie Sanders, Jewish Candidate, Baffles Pundits by Getting Muslims to Vote for Him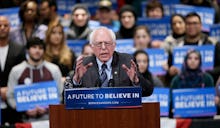 Bernie Sanders scored a surprising upset victory in the Michigan Democratic primary on Tuesday, when he wrested 50% of the state's votes to triumph over Hillary Clinton's 48%.
But one statistic in particular had pundits scratching their heads:
Read more: Bernie Sanders Wins Michigan Primary, Throwing Wrench in Clinton's Path to Nomination
As the International Business Times pointed out, commentators at outlets ranging from MSNBC to the Week to WNYC expressed a mix of surprise and congratulatory awe that Dearborn — a city with a sizable Muslim population — voted overwhelmingly for Sanders, a Jewish candidate:
Yes, it's true:
"Just one more strange data point in an election overflowing with them," wrote Peter Weber at the Week.
It's almost as if Muslim Americans vote based on the issues rather than a candidate's religious preferences.
"Just one more strange data point in an election overflowing with them." — Peter Weber, the Week
The implication here is that Muslim voters in Dearborn were expected to have an inherent bias against Sanders because he is Jewish. But as Tuesday's results indicated, this had little basis in fact — and appeared to reflect the pundits' own biases and assumptions more than anything else.
Dearborn is known for its sizable Arab-American population — though the U.S. Census doesn't track religion, making the above statistics about the size of the Muslim population difficult to verify. While exit polls from Michigan said little about how Muslims voted specifically, Sanders has made deliberate strides to woo the Muslim community in the Detroit suburb in recent days.
"We're going to end bigotry in this country once and for all," Sanders said in a speech there, according to the Detroit Free Press. "The Donald Trumps and their friends are not going to be successful in scapegoating minorities in this country. They are not going to be successful in attacking and denigrating our Muslim friends and neighbors ... They are not going to divide us."
h/t International Business Times