'The Voice': Christina Aguilera and Contestant Joe Maye's Duet Will Put a Spell on You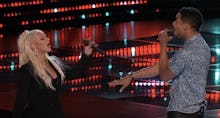 Joe Maye, a contestant on Tuesday night's blind auditions episode of The Voice, wowed the judges with his rendition of Screamin' Jay Hawkins' "I Put a Spell on You." Christina Aguilera was so moved by Maye, who previously attempted auditioning for the show during a different season, that she got on the auditioning stage with him and brought down the house as the two riffed in harmony and fans cheered wildly. 
Both Aguilera and Blake Shelton hit their buttons with the intention to work with Maye after listening to his incredible talent — and then were forced to hash it out right in front of him for his choice. "That is one of my favorite songs in the whole wide world to sing. I'd actually love to sing that with you one day," Aguilera said. "Why don't you?" fellow judge Pharrell immediately asked. "You're a dead man, Shelton," judge Adam Levine said, laughing. 
Read more: Watch Ariana Grande Sing Brilliant Impressions of Britney Spears and Christina Aguilera
Once she began ad-libbing in pure Christina Aguilera fashion, it was over: Shelton lowered his head, putting his hand to his forehead, accepting his defeat.
After the show, Maye thanked Aguilera for the performance, and the judges even got into a funny Twitter war, proving the show's newest contestant might just be the hottest commodity of the season:
March 9, 2016, 10:00 a.m. Eastern: This story has been updated.