On Barbie's Birthday, It's Clear How Much Can Change in 57 Years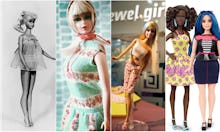 Want to know just how our fashion and beauty standards have changed?
Just look at Barbie, a "living" testimony to the way women see beauty, fashion and their bodies. Since she debuted on March 9, 1959, at the American Toy Fair in New York City, Barbie has functioned as a time capsule in doll form. She was, after all, the first doll for kids made with an adult body. As a "teenage fashion model," she has always reflected the trends of the times with her ever-fashionable outfits, painted-on makeup and perma-arched feet.
Or flat feet — since now, in 2016, we finally have Barbies who can wear flats and sneakers. We also finally have Barbies with bigger butts, kinkier hair, darker skin and stockier statures. 
Barbie has always embodied our ideals; now, she's finally beginning to embody our reality.