Gov. Rick Snyder Criticized for Spending $1.2 Million in Taxpayer Money on Lawyers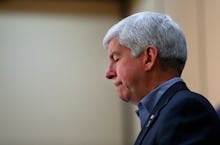 Michigan Democrats are dumping all over Gov. Rick Snyder since learning he authorized $1.2 million to spend on lawyers to deal with the Flint water crisis.
"It's beyond outrageous that Snyder wants to take $1.2 million from Michigan taxpayers to pay for defense attorneys over his involvement in the poisoning of Flint's water," state Democratic Party Chair Brandon Dillon said in a statement Tuesday, according to MLive.
MLive reports the March 8 agenda of the State Administrative Board notes up to $400,000 was approved for the services of the firm Barris, Sott, Denn & Driker toward "legal services related to civil litigation about municipal drinking water in the city of Flint, Michigan."
Another $800,000 was approved for "legal services related to records management issues and investigations regarding municipal drinking water in the city of Flint, Michigan," to be provided by the firm Warner Norcross & Judd LLP.
The total adds up to $1.2 million — money that critics are saying should go toward repairing the pipes in Flint. "That money should go toward replacing lead pipes and getting safe drinking water to Flint families, not for Snyder's defense attorneys," Dillon said.
An environmental crisis has devastated Flint over the past year and a half, where pipes corroded by polluted water have caused lead and other contaminants to be released into the water supply. Residents have complained of hair loss and skin rashes, and dangerously high levels of lead have been detected in the blood of local children.
As the crisis grew over time, city and state officials repeatedly told residents the water was "safe" to consume. It clearly was not, and now, a growing number are pursuing legal action.
A spokesman for the governor's office told MLive these legal services would mostly go toward processing the "enormous amount of data" needed to adequately respond to FOIA requests, and to redact emails for public release. He added that the governor's office has proposed $230 million to be spent on Flint, $70 million of which has already been approved.
Either way, it's bad PR. It's hard to get away with letting people get poisoned and then spending their money so you can clean up the mess.
h/t MLive