This Australian Fire Station Had the Perfect Message on International Women's Day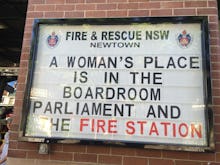 A fire station in a Sydney suburb got jokes. And it's got feminism, too, apparently. 
On Tuesday, International Women's Day, the Newtown, Australia, fire station used its public sign to send its community and — thank you social media — the world a little message:
Read more: 9 Tweets From People Who Totally Miss the Point About International Women's Day
"A woman's place is in the boardroom, parliament and the fire station," read the sign.
"We like to support causes that we think are worthy of supporting," Matt Murphy, Newtown Fire Station officer, told the Huffington Post.
"We think International Women's Day is one — a fire fighter is perceived as a very macho job, but we do have female fire fighters and they are just as good and for that reason we want to break down those barriers," Murphy added.
And this isn't the first time Newtown Fire Station has had fun with their signs. They frequently use domestic and international events as excuses to make people laugh or give them the feels — from Halloween to Mardi Gras to David Bowie's death.
This place is fire.