Mitt Romney Reads Mean Tweets from Donald Trump Supporters — It Goes as You'd Expect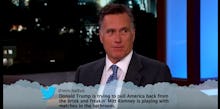 After last week's disparaging remarks about Republican presidential frontrunner Donald Trump, Mitt Romney was thrust back into the national spotlight. In the spirit of the weirdness of this year's election cycle, it's only fitting that Romney would join the rush of politicians to appear on late night. 
Sitting down on Jimmy Kimmel Live! on Tuesday night, Romney went through what has become a staple on Kimmel's show — guests and celebrities reading mean tweets about themselves. Romney perused a slew of tweets from Trump supporters — and one from the real estate mogul himself.
Read more: Mitt Romney's Speech on the 2016 Race Was a Scathing Indictment of Donald Trump
The first tweet Romney, a former presidential candidate, read was from Trump: "Mitt Romney had his chance and blew it. Lindsey Graham ran for president, got ZERO, and quit! Why are they now spokesmen against me? Sad!" 
The tweets from Trump supporters ranged from petty insults about his admittedly gray hairline to wanting to punch him in the throat. The best of the bunch — and perhaps the most creative — was Twitter user cheddarbiskit, who tweeted they would "pay good money to watch Mitt Romney crying in a ball pit at a Chucky Cheese." 
All joking aside, Romney had a serious message at the end of the segment, in a similar vein to what he was trying to convince the American public after his scathing remarks about Trump last week. "Donald Trump just needs to get out of the race," Romney said. " ... Let's make people happy and let's have a candidate we can be proud of." 
Check out the full skit below.