2016 Election Map: Coverage Map of Electoral Votes Per State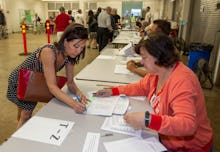 With under 250 days left until the 2016 presidential election on Nov. 8, voters across the nation have been participating in a series of primary elections and caucuses that will run until June 14. While it might seem that the eager voters are directly participating in the process to elect their next president, in actuality, the effort is carried out by electors.
Electors, according to ABC News, are individuals selected by each state's Democratic and Republican parties, who have thrown their support behind their specific candidates. Employees of the government, as well as members of Congress, are unable to become electors. This method of indirect election allows voters to cast their ballots, then the delegates elect their respective party's presidential nominee.
Read more: 2016 Primaries: Your Guide to the March 8 Republican and Democratic Elections
However, this doesn't mean voters are not involved in the process at all. Typically, the candidate that wins the popular vote in a state wins the entire state's electors, who then place their votes for that party's candidate. Candidates need 270 electoral votes to secure a majority, so whoever gets the most electoral votes wins the presidential election. Five hundred thirty-eight electoral votes are cast every election, one of the few constants in a presidential campaign. 
The website 270toWin.com illustrates the voting power of each state during the 2016 election cycle, and even allows curious voters to create specific battles between specific states by clicking on a particular state.