How to Get Tested for HIV: From Anonymous, Free Testing Options to Health Care Providers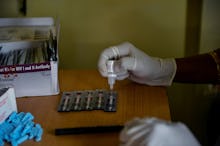 As HIV testing continues to grow and expand throughout the United States, there are a number of institutions providing services to those looking to get checked for the virus. If anonymous testing is a priority, there are also a number of options so that one can avoid having to ask their family doctor.
Getting tested is important, but not enough young people do it. Planned Parenthood reports one in every six people infected with HIV is unaware they have the virus. If you're insured, it's pretty simple to go through your health care provider — all insurance providers are required to offer HIV testing for anyone between 13 and 64 years old, according to the New York Department of Health. 
Read more: The Scariest Millennial HIV Number Isn't How Many People Have It
Check out AIDS.gov's HIV testing site locator to find centers near you offering testing. The CDC can also help provide further details on how to get tested and where to find more information surrounding an HIV or AIDS diagnosis via their phone line: 800-CDC-INFO. 
Thanks to advancements in testing, getting tested anonymously is now easier than ever before. In fact, testing can be done from the comfort of one's home using the Home Access HIV-1 Test System or the OraQuick In-Home HIV Test, according to the government's site on AIDS information. You can even order them online.
If paying for an HIV test is an issue, there are plenty of free and low-to-no-cost HIV and STD testing locations across the United States provided by the health department. In most clinics, appointments aren't necessary, and patients are seen by doctors on a first-come, first-served basis.
These free and low-cost locations provide the same testing services that other clinics would, and can connect those diagnosed with HIV or AIDS with the appropriate resources for treatment.