'Vogue Spain' March Cover Features Black Model With Cornrows, Declares Black Is Beautiful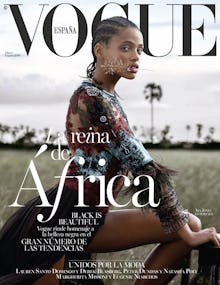 Just in time to slap the word "boxer braid" out of your mouth, Vogue España has chosen model Aya Jones as their cover model — with a very important message. 
Jones not only sports cornrows, but she also stands right behind the message, "Black is beautiful." 
Read more: These 12 Famous Black Women Wore Cornrows Before Kim Kardashian West
Jones is a breakout fashion star whose father is from the Ivory Coast — hence why the magazine called her "the Queen of Africa." Her hair was styled by Karim Belghiran, but when it came to actually perfecting the coif, it was a team of women from Botswana who put in the work. 
Vogue España's cover is a powerful and perfectly timed declaration. It was only a few weeks ago that MTV UK said Kim Kardashian was popularizing "boxer braids," which are just cornrows by another name. Let's not forget when Cosmopolitan tried to declare "hair tattoos" a thing as if people of color hadn't been styling their hair like that for years. Of course, during cornrowgate in July, Amandla Stenberg taught Kylie Jenner that her hair was an example of cultural appropriation.
Obviously, Vogue España is not having any of this nonsense and decided to showcase #BlackGirlMagic because they know that #RepresentationMatters. 
h/t The Root