Amber Rose Calls Out Pink for Her Kim Kardashian West Subtweet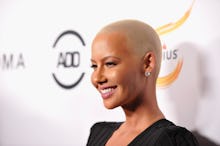 While Kim Kardashian West made it clear she wouldn't have any slut shaming from anyone, it seems Pink didn't get the memo. On Tuesday night, the singer posted a tweet in honor of International Women's Day that threw some not-so-subtle shade at Kardashian West for her naked selfie.
While Pink never explicitly named Kardashian West, you don't need to read between the lines for her message, which didn't quite accommodate Twitter's 140-character limit, to come across loud and clear.
"Shout out to all of the women across the world, using their brains, their strength, their work ethic, their talent, their 'magic' that they were born with, that only they possess," the singer wrote. 
"It may not ever bring you as much 'attention' or bank notes as using your body, your sexy, your tits and asses, but women like you don't need that kind of 'attention.'"
Pink hashtagged the post #upyourrealworth.
This time, though, Kardashian West found a friend in model and actress Amber Rose, who jumped to her defense in a pair of Instagram posts. Though Rose and the Kardashians are known for having bad blood — Rose is not only Kanye West's ex, but she's also created friction by speaking out against Kylie Jenner and Tyga's relationship — she put differences aside to stand by Kardashian West's right to do what she wants with her body.
Accompanying a screenshot of Pink's original tweet, Rose wrote, "Damn Pink we were all born naked society sexualizes our breast and bodies. If a grown mother of 2 is comfortable with her body and wants to show it off that's none of ur business or anyone else's."
She went on to accuse Pink of hypocrisy, adding, "We're so quick to down each other instead of uplifting! Pink, We've seen u damn near naked swinging from a rope (beautifully) but what's the difference between a rope, a pole and a pic on Instagram? Classism."
And amid Rose's response was this perennial plea, "But please as a grown woman let another grown woman live as she wishes. That's our problem!"
Soon after, Rose reposted one of Kardashian West's nude photos, exclaiming, "Live it Kim!"
Live it, ladies!
March 9, 2016, 11:26 a.m. Eastern: This story has been updated.
Read more: Amber Rose's Funny or Die Video Flips the Script on the Walk of Shame