The 'Sharknado 4' Cast Was Just Announced — Here's Who's Returning For the Latest Sequel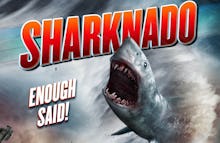 A brand new chapter in the so-bad-it's-good saga of Sharknado disaster movies is coming — So hunker down and prepare for flying sharks. Syfy announced on Wednesday that the newest installment in the TV-movie franchise, Sharknado 4, will feature the return of stars Tara Reid, David Hasselhoff and Ryan Newman. Additionally, Gary Busey, Tommy Davidson, Imani Hakim, Cody Linley, Masiela Lusha and Cheryl Tiegs have all been cast for the latest installment, reported Deadline.
Read: Nickelodeon Is Reviving 'Legends of the Hidden Temple' and 'Hey Arnold' as TV Movies
Syfy first announced Sharknado 4 back in July, just after the debut of Sharknado 3: Oh Hell No!, reported Variety. Sharknado 4 will reportedly take place five years after the events of Sharknado 3: Oh Hell No! If the previous three films are any indication, our heroes will once again find themselves battling massive storms that hurl sharks through the air and into the streets and homes of everyday citizens. 
The original Sharknado became a near-instant cult classic when it first aired on Syfy in 2013 — going viral on social media because of its over-the-top premise and delightfully cheesy special effects. Devoted fans can likely expect more of the same this time around.