Sacha Baron Cohen Tells Howard Stern the Real Reason He Quit the Freddie Mercury Biopic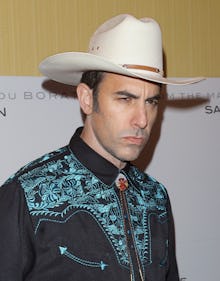 Sacha Baron Cohen was slated to star in a biopic about Queen frontman Freddie Mercury but quit the project in 2013 due to "creative differences." While Queen guitarist Brian May told Rolling Stone that Baron Cohen left the project on "good terms," Baron Cohen appeared on the Howard Stern Show on Tuesday to elaborate on his departure from the film.
Read more: Sacha Baron Cohen and the Other Oscar Moments That Had Us Groaning
Baron Cohen said he got a lot of pushback on his idea for a grittier depiction of Mercury. "There are amazing stories about Freddie Mercury," he told Stern. "The guy was wild. There are stories of little people with plates of cocaine on their heads walking around a party." But Queen "wanted to protect their legacy as a band," he said.
Baron Cohen also contended with the script, which would've seen Mercury die midway through the film. "'What happens in the second half of the movie?'" Baron Cohen recollects to Stern on his conversation between him and an unnamed member of the band. "He goes, 'We see how the band carries on from strength to strength.' I said, "Listen, not one person is going to a movie where the lead character dies from AIDS and then you carry on to see how the band carries on." Mercury died in 1991.
Listen to interview below:
Source: Soundcloud