Here are Some of the Healthiest Fast Food Options That May Surprise You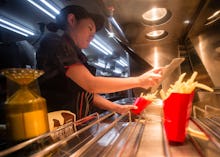 Many Americans live their lives on the go and might be unable to eat breakfast in the morning, pack a lunch from home or devour a full meal at dinner time. Sometimes fast food restaurants become a feasible option for many, even though fast food may increase your risk for Type 2 diabetes and researchers say it is still as "unhealthy as ever."
But not all fast foods are created equal. In 2009, Health.com surveyed the 100 largest fast food chains in the United States, using criteria determined by a committee of six well-regarded nutritionists, dietitians and health experts. Panera Bread, an American bakery-café chain of fast food restaurants, ranked in the No. 1 spot. 
Noodles & Company's Japanese Pan Noodles, Chipotle Mexican Grill's Burrito Bowls, and Einstein Bros. Bagels' Veg Out option on a sesame seed bagel are can serve as healthy fast food options. The aforementioned fast food chains also ranked in the top 10 healthiest. 
Read more: The Healthiest Fast Food Restaurants to Go to When You're Craving Fries
However, a fast food chain that most Americans don't associate with healthy eating also appeared on the list: McDonald's, the largest chain of hamburger fast food restaurants on the globe, was listed at No. 8. The committee recommended the Grilled Chicken Classic sandwich, the wraps without mayo or sauce, the salad with Paul Newman low-fat balsamic vinaigrette and an Egg McMuffin as healthy options at the prominent hamburger chain. But the committee of experts reminded consumers that the restaurant chain can still be unhealthy: "Although McDonald's made our list, this is still the land of supersizing and giant sodas. It's up to you to request a small."
Kentucky Fried Chicken, a popular fast food chain that specializes in fried chicken, didn't make it on the list. But according to Dr. Mike Moreno, a family medicine practitioner, KFC can have healthy options if you're looking. 
"Believe it or not, there are healthy choices at KFC," Moreno told Health.com. "You don't have to revert to a side salad to eat well there. To lower the fat in my order, though, it's crucial to strip any skin off the drumsticks — they taste great, even without it. As for the mashed potatoes [90 calories and 320 mg of sodium], I dip the fork in the gravy rather than dumping it on. It saves almost 30 calories and I still get a hit of flavor."
WebMD also found healthy food options at several popular fast food chains. The website states that the following menu options are the best choices if you're watching the calories: Chick-fil-A's Grilled Chicken Sandwich and fruit cup, Wendy's Chili-Topped Potato, Jack in the Box's Chicken Teriyaki Bowl and Taco Bell's Chicken Fresco Burrito Supreme and Pintos 'n' Cheese. These are healthy alternatives to consider when choosing your next fast food meal.