Canadian Prime Minister Justin Trudeau Says a Woman Will Be Featured on Country's Currency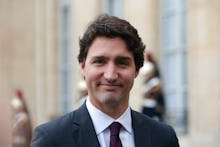 After photos of Justin Trudeau cuddling pandas circulated on Monday, it seemed the Canadian prime minister had easily and definitively solidified his status as dreamiest world leader. But the feminist favorite wasn't content to stop there, announcing on Tuesday that an "iconic Canadian woman" will be featured on the country's currency in 2018, according to the Washington Post.
"I am pleased to announce today, right here, that a Canadian woman will be featured on the very first of the next series of bills expected in 2018," Trudeau said at a news conference in honor of International Women's Day. 
Read more: Matt McGorry's Feminist T-Shirt Is All We Want to Wear on International Women's Day
Although Canadian women have previously been featured on the nation's currency, they were replaced with the image of an arctic icebreaker in 2011, according to the organization Women on Canadian Banknotes. The organization is the same one that launched a petition, which over 73,000 individuals have signed, calling for restored representation.
The Bank of Canada is calling for and will receive official submissions from the public until April 15, but more than 300 suggestions of women worthy of the honor have already been posted on Women on Canadian Banknotes' website, from national literary treasures Alice Munro and Margaret Atwood, to pop icons Celine Dion, Avril Lavigne and Shania Twain. Curiously, Carly Rae Jepsen, Rachel McAdams and Kim Cattrall seem to be missing from the list (but, then again, there's still time).
Trudeau's pledge comes in the wake of a highly publicized call for female representation on United States currency. After one organization called for a woman to appear on the $20 bill, American women championed the effort, rallying for the cause until Treasury Secretary Jack Lew announced in June that in 2020, the $10 bill will be updated to feature a female figure.
This is also hardly Trudeau's first show of support for marginalized and underrepresented groups. In addition to advocating for gender equality, the prime minister agreed to march in a Canadian gay pride parade, has notably welcomed refugees and was honored by indigenous Canadian Tsuut'ina First Nation.
Trudeau received much, deserved acclaim for asserting he needed no other reason to incorporate gender equality into his agenda than "because it's 2015." Thankfully, it's clear the same holds true for the politician in 2016, too.
h/t Washington Post