Did 'W Magazine' Whitewash Zendaya and Willow Smith? Twitter Is Blasting April Cover.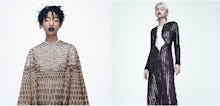 There's no denying the power of W Magazine's April cover, which features a powerful trifecta of young up-and-comers: Zendaya, Willow Smith and Kiernan Shipka.
Read more: This Model Just Quit the Fashion Industry to Make a Powerful Point
Just look at those lips. The brows. The hair. The safety pins!? "I was in my bathroom yesterday and saw some safety pins on the counter and was just like, 'Let me stab a dread real quick,'" Smith, 16, told W. "When I did it, I was, like, 'Oh, this is dope.'"
Dope indeed — it's a stunning display of three teenagers who will no doubt be running the entertainment industry before they're even legally allowed to drink. 
However, upon further inspection, folks on Twitter began to notice something off about the cover: the distinctly pale faces of Zendaya and Smith.
Others turned to Instagram to vent their frustrations, posting comments on W's post of the cover:
It's certainly not the first time a controversy has brewed over alleged whitewashing. Rihanna's 2011 Vogue UK cover caused such a stir that the magazine was forced to release a statement.
"The reality is that the pictures that were published came in exactly how they have been published — with absolutely no skin lightening," wrote Vogue UK Editor-in-Chief Alexandra Shulman. "If her skin does look pale it is probably because of the very strong sunlight in LA that day. We worked with her chosen hair and make-up team to present her in the way she was most comfortable with."
One year earlier, Elle Magazine was forced to address backlash over the lightening of Empire star Gabourey Sidibe's skin tone. 
"People want to make something out of nothing," Elle Editor-in-Chief Robbie Myers told E! News. "We absolutely did not lighten her skin. Retouching is when we take a piece of hair and move it out of her eye, so you can't compare a picture on a press line from what you do in a studio, where your job is to make them look beautiful. This is their controversy."
While it's great to see magazine covers embracing women of color — even declaring "black is beautiful" — the effort is entirely nulled if their natural appearance is altered. It remains to be seen how vocal the pushback will become, or whether W will address this controversy. Mic has reached out to the magazine for comment.