Trainer Jillian Michaels Proposed to Her Partner in the Best Way — Watch the Video Here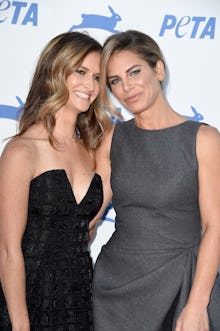 Celebrity trainer Jillian Michaels, who has appeared on The Biggest Loser and The Doctors, popped the question to her partner Heidi Rhoades on the season finale of her reality show Just Jillian — and the proposal was adorable.
Read: This Engaged Couple's Gut-Wrenching Conversation Exposes Harmful Myths About Bisexuality
Michaels invited Rhoades to a private screening of a movie, during which she surprised her with a fake trailer about their lives together. The trailer showed pictures of the two traveling together and photos of the birth and adoption of their two children, Phoenix, 3, and Lukensia, 5.
The trailer ended with friends, family and Michaels herself holding up signs reading "Will," "You," "Marry" and "Me." And after the trailer ended, a tearful Michaels got down on one knee in front of Rhoades and said, "I know I'm an asshole a lot of the time, but if you will continue to put up with me, I would like you to marry me." Then they kissed and they were both crying and it was totally adorable. Total relationship goals right here.