Missouri's "Religious Freedom" Bill Could Pave Way for Discrimination Against Gays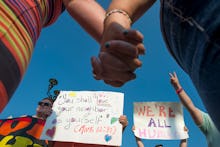 A 39-hour filibuster conducted by Democratic legislators aiming to hold up the vote on a "religious freedom" bill has been stopped. On Wednesday morning, the Missouri Senate passed the bill, which would effectively allow individuals or businesses to discriminate against same-sex couples. The filibuster began at 4 p.m. Central on March 7.
"The measure would amend the Missouri Constitution to prohibit the government from punishing individuals and businesses that refuse on religious grounds to provide goods or services for marriage ceremonies or celebrations of same-sex couples," according to the Kansas City Star. "That could include coverage for florists or bakers, who in other states have faced legal challenges for declining to provide services for same-sex weddings."
Read more: Missouri Democrats Have Been Filibustering This Legislation for 20 Hours — And Counting
This anti-LGBT bill, officially known as Senate Joint Resolution 39, passed 23-9 on the Missouri State Capitol floor after Republicans in the chamber used a "procedural move" to bring the Jefferson City talk-a-thon to an end, according to NBC News. 
Missouri Governor Jay Nixon has openly decried the anti-LGBT legislation, but if the bill makes it past the next rounds of votes — next week in the Missouri Senate again, followed by the state's House of Representatives — the Missouri voters would ultimately decide whether Senate Joint Resolution 39 is approved or not.
Jeffrey Mittman, executive director of the ACLU of Missouri, is concerned about the precedent this bill may set. 
"This bill would enshrine discrimination in our state constitution by allowing taxpayer-funded organizations like adoption and foster care agencies and homeless shelters to refuse serving LGBT families, in addition to countless other harmful consequences," Mittman said in a statement Wednesday, according to NBC News.