Demi Lovato Defends Kim Kardashian West's Nude Selfie With Brilliant Instagram Cartoon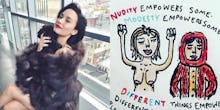 Demi Lovato has decided to officially shut down Kim Kardashian West's nude selfie, which is leading to celebrities to take stances on whether the reality star should be celebrating her body, from Pink to wise teen Rowan Blanchard. Lovato's approach to the subject is "Confident," of course: Everyone should mind their own damn business, in her opinion. 
"Nudity empowers some. Modesty empowers some," read a cartoon of two women, one naked and one clothed, that Lovato uploaded Tuesday to Instagram, following the backlash from Kardashian West's recent nude selfie. "Different things empower different women and it's not your place to tell her which one it is."
Read more: Is Pink's Twitter Post on Feminism a Jab at Kim Kardashian West for Her Naked Selfie?
"That is so freaking true," Lovato captioned the cartoon, which received well over 300,000 likes in under 24 hours. "Like: MIND YOUR DAMN BUSINESS."
Lovato joins the cast of support for Kardashian West from fellow celebrities, including Blanchard, who tweeted, "Why are feminists mad at Kim K [for] consensually posting a pic of her own body ... I think that is an awesome thing [to] teach girls: to be accepting of yourself and use the Selfie to choose how you want to be viewed and try to gain control of your own image: something girls have never had (or control in general)," as Mic previously reported. 
Lovato's other Instagram post was a simple five-word meme: "Let us praise badass women." 
Pink also expressed her side of the debate:
"Shoutout to all of the women, across the world, using their brains, their strength, their work ethic, their talent, their 'magic' that they were born with, that they possess. It may not ever bring you as much 'attention' or bank notes as using your body, your sex, your tits and asses, but women like you don't need that kind of 'attention,'" Pink tweeted.
"In the quiet moments, you will feel something deeper than the fleeting excitement resulting from attention, you will feel something called pride and self respect. Keep on resisting the urge to cave. You'll never have to make silly excuses for yourself. #InternationalWomensDay #BeStrong." 
Her message, which subliminally lambasts Kardashian West for her photo, was a sentiment ringing across social media over the course of the week, which Kardashian West candidly responded to:
Kardashian West addressed the backlash in more than 140 characters, writing a blog post on her app. In it, Kardashian West claps back at her naysayers, saying she's proud of her body, doesn't understand why she isn't considered a good role model by some and even reveals she's fully moved on from the criticism surrounding her sex tape from 13 years ago.