How Toyota's Project BLAID Helps a Blind Person Navigate the World and See Through Cameras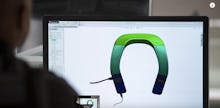 A new wearable device by Toyota will use voice recognition technology and speakers to help guide the blind. 
Toyota wants to develop an appliance that will fill the gap left by existing tools for the visually impaired, like guide dogs and GPS instruments. The current working prototype can be worn over a person's shoulders, pairs with a mobile device and uses cameras to alert its wearer to doors, bathrooms, signs, elevators and other important markers. 
Eventually the Toyota plans to incorporate mapping as well as object and facial recognition into the wearable device, according to Detroit News.
The project is a product of the Toyota Partner Robotics Group made in collaboration with Toyota engineers and several organizations devoted to working with visually impaired populations. Toyota has plans to beta test the device among a select group of people later this year, according to the company.   
Project BLAID, as the device is known internally, comes on the heels of Toyota's major investment into artificial intelligence and robotics. Last year, the carmaker launched Toyota Research Institute with a $1 billion funding nest. Since then, the institute has stolen Google's former head of robotics James Kuffner.