Kendrick Lamar Announces Lyrics Contest: How Well Do You Know 'Untitled Unmastered'?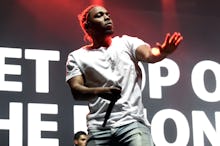 Time to brush up on your Kendrick Lamar lyrics. After surprise-dropping Untitled Unmastered last Thursday – the follow-up project to his critically acclaimed 2015 album To Pimp a Butterfly – Lamar announced last night that he will be holding a lyrics contest today at 4 p.m. Pacific/7 p.m Eastern.
Read more: Kendrick Lamar Lyrics: 'Untitled Unmastered' Touches on Spirituality, Race and Wealth
The contest will consist of eight questions, each about one of the eight tracks from Untitled Unmastered, asked in random order. 
Participants must use the hashtag #UntitledLyrics to submit their answers, either on Kendrick Lamar's Facebook page, or via replies to his Twitter account. Prizes include a T-shirt, hat and backpack to rep your love of Lamar and Untitled Unmastered.
With that said, Kendrick urges fans to listen to the album carefully beforehand, as the questions "will not be easy." 
Good luck!