5 Quotes About Love From the Most Unconventional Sources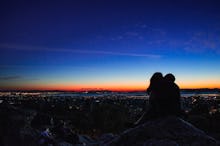 Love: it's the most powerful human emotion, as it connects all people and is felt by virtually everyone. In fact, it's not just the scholars and poets who offer their unsolicited advice on being struck by Cupid's arrow — in fact, some of the most unconventional people have said some pretty profound, thought-provoking and sometimes hilarious quotes about falling in love. 
Surprisingly, some of the best quotes about love come from the voices you'd least expect. From Betty White to Lao Tzu, love has been one of the biggest topics of conversation for all humans since ancient history. And everyone tends to candidly share their thoughts on catching the love bug. 
Read more: The Love Calculator: Take the Original Love Test to See If You'll Be Alone Forever
Check out these five quotes about, life, liberty and the pursuit of love from some of the most unconventional sources:
Betty White said this while starring as Elka in Hot In Cleveland:
Eric Fromm, a German social psychoanalyst for the Frankfurt School and a democratic socialist had this to say about Cupid's arrow:
"Immature love says: 'I love you because I need you.' Mature love says: 'I need you because I love you.'"
Carl Sagan, an American astronomer known for captivating audiences with the beauty of science, thought love was totally outer space:
Eleanor Roosevelt may have kept busy as first lady with diplomacy and political activism, but she still found time to make some rather powerful remarks surrounding love:
"It takes courage to love, but pain through love is the purifying fire which those who love generously know. We all know people who are so much afraid of pain that they shut themselves up like clams in a shell and, giving out nothing, receive nothing and therefore shrink until life is a mere living death."
Though Albert Einstein is better known for his theories on science and mathematics, he was known to occasionally provide some life-altering quotes on other subjects as well, including love: