Dr. Luke Denies Claim He's Being Dropped From Sony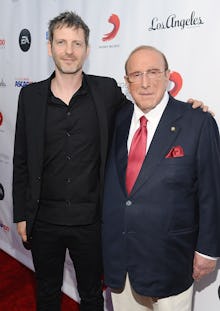 For a moment, it seemed #FreeKesha was achieving its goal.
On Wednesday afternoon, the Wrap published a report claiming that the world's largest music publishing company would be cutting ties with producer Lukasz "Dr. Luke" Gottwald surrounding the pressures of the #FreeKesha campaign. The article quoted anonymous "knowledgeable individuals" who outlined public relations problems Sony has been facing following Kesha's failed injunction to break her contract with her alleged abuser on Feb. 19.
Mic reached out to Sony to confirm the reports and the company declined to comment. Hours later, Dr. Luke's camp responded by denying any claims of soon-to-be cut ties.
"This is not true," a spokesperson for Dr. Luke said in a statement offered to Entertainment Weekly. "Luke has an excellent relationship with Sony. His representatives are in regular contact with executives at the highest levels at Sony and this has never come up."
Whether Sony actually does drop Dr. Luke in the future remains to be seen, but the Wrap article does bring up several salient points that Sony will have to face as the case moves forward.
"They can't afford the Adeles of the world out in the streets calling the label unsupportive," one person familiar with Sony management's thinking said in the Wrap's piece. Adele hasn't exactly called the label unsupportive, but she did declare her support for Kesha while accepting an award for the best solo artist at the 2016 Brit Awards. Artists like Lady Gaga, Lorde, Arianna Grande and Grimes have done the same.
"Obviously the dude [Dr. Luke] is a talented guy, but character-wise, no," Kelly Clarkson, who worked with the producer on her hit "Since U Been Gone," told Australia's KIIS 1065 radio station Monday. "I only worked with him — even the last time I worked with him — because literally I got blackmailed by my label."
In order to keep the pressure on Sony to drop Dr. Luke, the same organizers who picketed outside of Kesha's Manhattan courtroom the day of her injunction, and more recently outside of Sony's headquarters, are arranging another protest to take place on Friday March 11.
They will also be delivering a combined petition with 411,000 signatures demanding Sony release Kesha from her contract, according to Time.
As a Sony spokesperson has already confirmed, the company cannot outright release her itself, since her contract is through Dr. Luke's Kemosabe Records. Finding a way to terminate Dr. Luke's contract would be the only way for them to act in this scenario — but as the Wrap noted, a "unilateral dissolution of the contract would be a direct breach, so a negotiated exit would be most likely to save face on both sides."
It seems the war to #FreeKesha is far from over.