Pi Day 2016: Freebies, Deals and Yes, Free Pies (Including the Pizza Variety)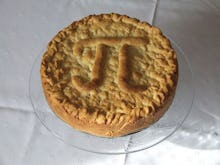 Math geeks and deal hunters, unite! Pi Day is imminent. On Monday, March 14th, a number of places will be offering deals to celebrate the irrational holiday, even though this year's Pi Day isn't as epic as last year's.
Read more: Finally, the Perfect App for People Who Hate Math
1. Many national pizza chains are either offering Pi Day-centric deals or have existing discounts that overlap Pi Day. Either way, you'll get discounted pizza pies!
2. What if pizza is not enough, and you happen to be desperate for a wedding venue in the DC area? The Washingtonian reported that the &pizza chain plans to turn their Columbia Heights location into a "Vegas-style" wedding chapel, which will include "free music, flowers, food and a legal wedding officiant."
3. If you're in San Francisco, stop by the Exploratorium, where National Pi Day was first established 28 years ago. The museum will offer free admission and a full day of activities to celebrate Pi Day.
4. If you're in Princeton, New Jersey, you have a plethora of options from local merchants for both food and activities. The town takes Pi Day very seriously, celebrating it in tandem with Albert Einstein's birthday.
5. Finally, if you spend more than $25 at ThinkGeek.com, you get this Pi Day T-shirt for free.