Watch Anohni's New Video for "Drone Bomb Me," Featuring Super Model Naomi Campbell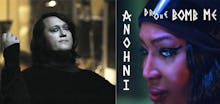 Anohni has never shied from using her effortlessly beautiful music to force listeners to confront the ugliest social and political realities. Wednesday, she released one of her finest artistic statements to date. 
The singer (formerly known as Antony Hegarty of Antony and the Johnsons) released a video for her latest single titled "Drone Bomb Me." She describes it as "a love song written from the perspective of a young girl in Afghanistan whose family has been executed by unmanned U.S. drones," Hegarty said in a statement. "She dreams of being annihilated."
That little girl is played by the stunning and fully grown super model Naomi Campbell, who weeps for the camera while frenzied choreography swirls around her.
Campbell lip-synchs the song's tragically poetic lyrics, pleading for death. "Blow my head off," she synchs. "Explode my crystal guts." It makes for Campbell's second high-profile contribution to the music scene in the past month, the first being her appearance during Kanye West's Yeezy Season 3 premiere on Feb. 11.
The song's dire political angle fits with much of Anohni's artistic philosophy. The singer made headlines around the 2016 Academy Awards for not being asked to perform, despite being nominated for best original song for her ecologically minded anthem "Manta Ray." 
In an essay for Pitchfork, she said she "wasn't excluded from the performance directly because I am transgendered" but that "a system of social oppression and diminished opportunities for trans people that has been employed by capitalism in the U.S. to crush our dreams and our collective spirit."
That essay's same critiques of a United States government that pursues "power and control" over "the preservation of biodiversity and the pursuit of human decency" appear in "Drone Bomb Me" in beautiful poetic form. Anohni's debut album Hopeless drops May 6. Get the first taste of the album's evocative visual aesthetic below, via Apple Music.